Mostbet Aviator Online Game
Mostbet Aviator is one of the most popular Instant LIVE games, played by thousands of users around the world. It's very popular because it's not just chance that decides everything, but the player's patience and the ability to stop at the right moment.
Here we would like to tell you in detail about Aviator Mostbet, share our gaming tips and tell you how to start playing it for real money and make your profit quickly!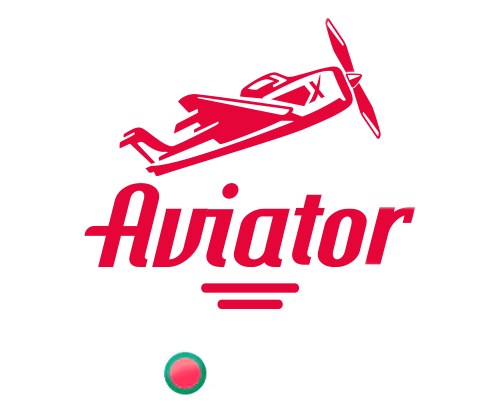 About Aviator Online Game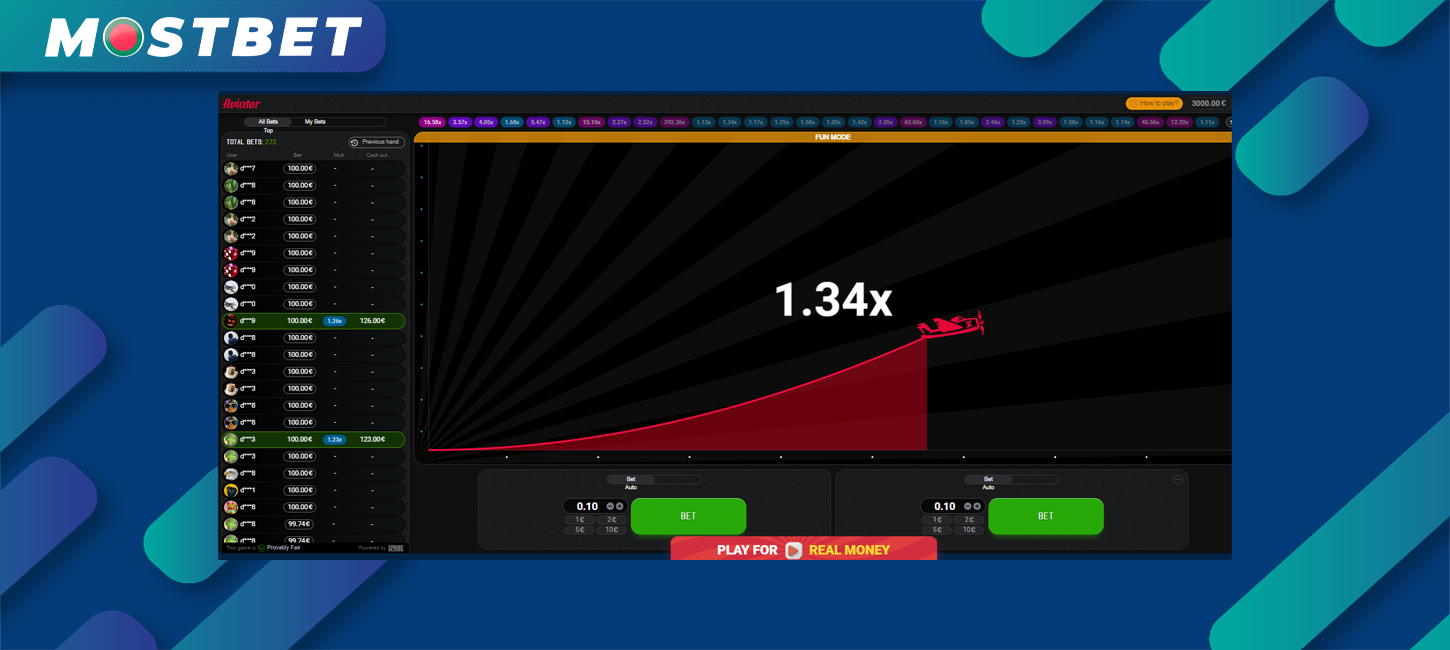 The Aviator game was originally created by Spribe, a company specializing in Instant Casino Games. It was quickly added to Mostbet website and became hugely popular among users, we even made a separate section for it on the website and in the apps.
Here is the most basic information you need to know about this game:
On the playing field in LIVE mode, you see an animation of a plane flying;
As the plane flies, the odds are constantly increasing on the screen;
The player has the option to place two bets and watch the odds and the flight of the plane increase;
The player must press the cashout button until the plane flies away;
The plane can fly away at any time, so if the player fails to cash out any of the bets, it will lose;
The player can cash out at any time of the flight and it is done instantly;
The moment when the plane leaves is completely random and is determined by a random number generator.
So, technically, the player at Mostbet Aviator makes a bet and waits for the odds to rise to the right level, then he cashes out. If the plane flies away, the player loses.
How to Start Playing Mostbet Aviator Online?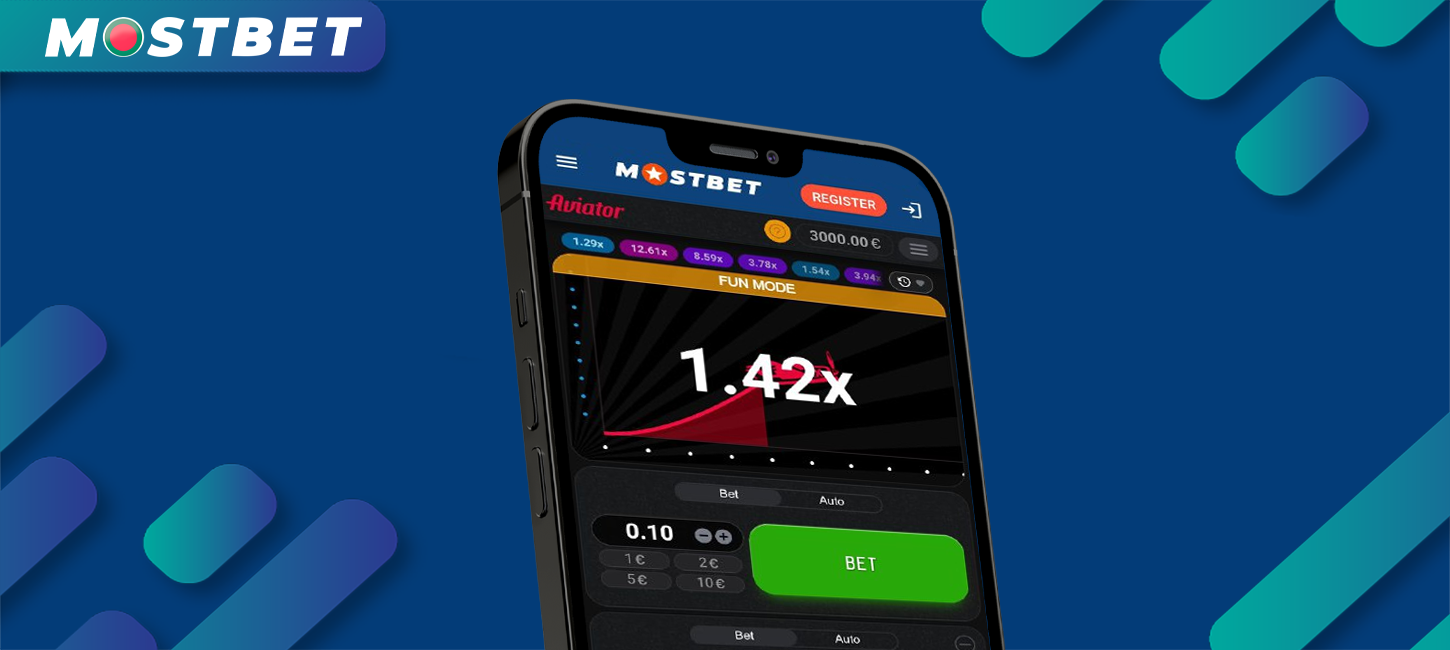 Here's a little instruction on how to start playing Mostbet BD Aviator:
Register on the website or Mostbet app;
Deposit money into your account balance;
Go to the Aviator Game section;
Place one or two bets and wait for the round to start;
Wait for the odds to reach the desired value and click on the cashout button before the plane leaves;
Receive your winnings!
Your winnings will be credited to your balance as soon as you hit the cashout button. If you don't do this in time and the plane leaves before it does, you will lose.
How aviator game works?
While playing Aviator, users place their bets. When a round starts, the main task is to hit the cashout button in time to receive payout. You can check the statistics for previous rounds, and see other players' bets. Thus, it is actually impossible to try and predict the outcome of any round in advance, as Spribe Aviator operates on technology based on a Provably Fair technology – result of the round is generated with help of round players and is fully transparent. This way, it's impossible for anyone to manipulate game output..
Aviator algorithm
The game runs on Provably Fair technology, which is the main Aviator game Algorithm. The essence of the technology is that the outcome of each round is generated by an artificial intelligence that operates on the basis of a random number generator. Thus, it is impossible to make an Aviator game prediction that guarantees victory.
If you want to understand the algorithm better, we can recommend you to play in demo mode.
Aviator login at Mostbet
In order to start playing for real money you need to make a personal Aviator game registration to which you can make a deposit. In order to register, follow the steps below:
Open Mostbet. Go to the official website or open the Mostbet app;
Click "Register". This will open up the registration form in front of you.
Select the registration method. You can create an account via email, phone number, social networks or in one click;
Fill in the fields and complete the registration. Specify the currency of your account, fill in other fields if needed for the chosen method and click the confirm button.
When you have finished these steps you will automatically be logged into your account, you can deposit BDT into your balance and start winning at Aviator.
Aviator demo game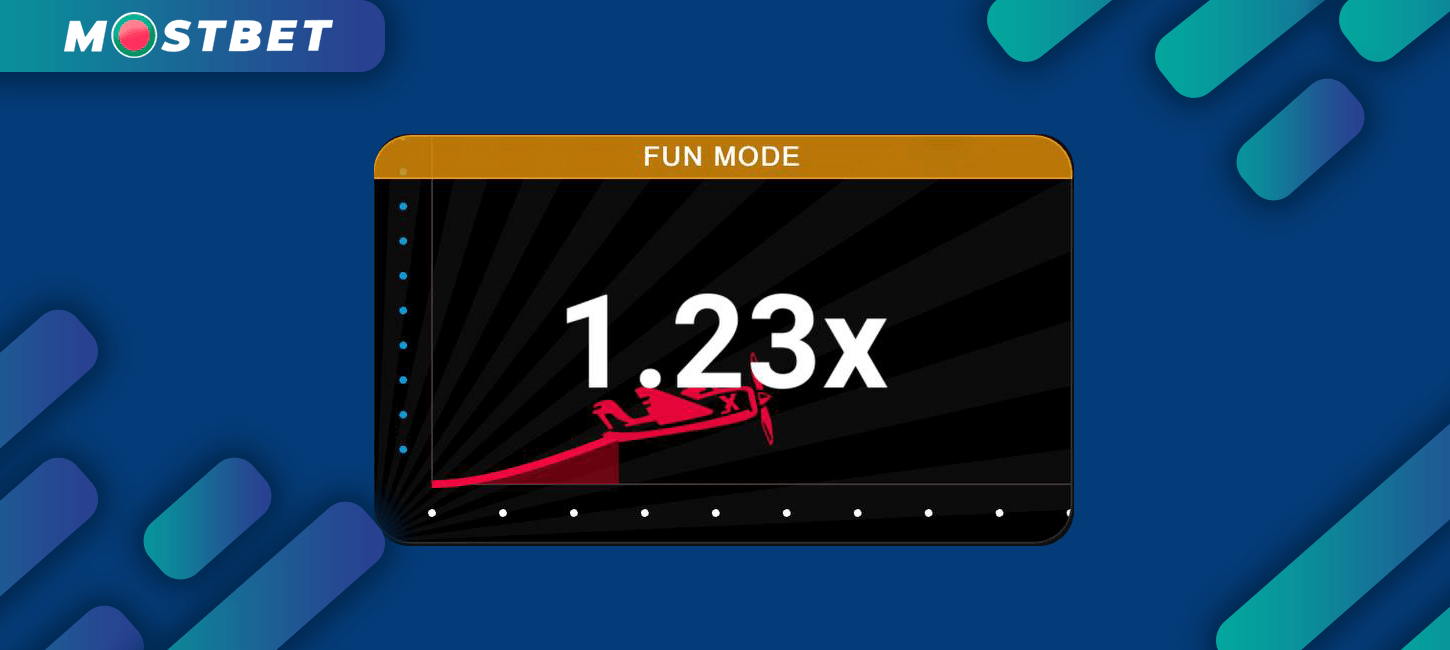 To get a feel for the game, you can play the Aviator demo game for free. You place your bets with virtual money, learn the game's algorithms, cash out and get your winnings. When you're ready, you can start playing for real money in a single click.
Winning strategy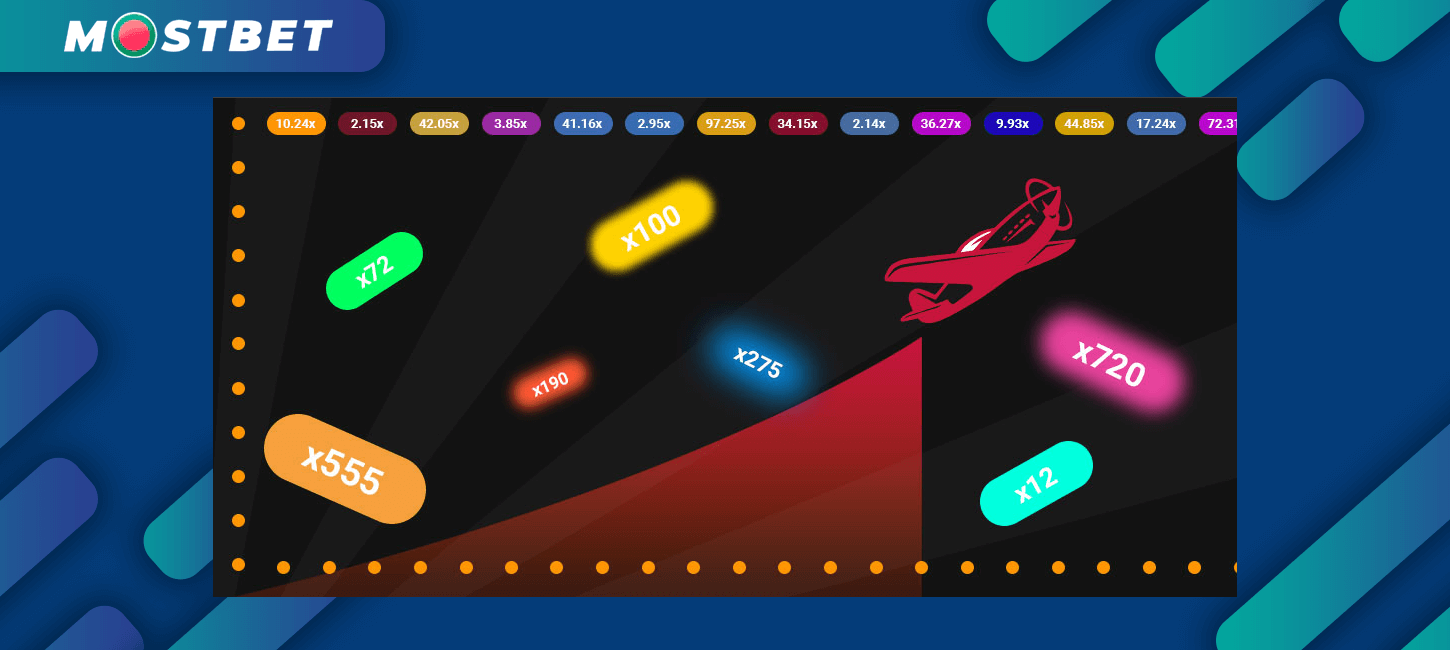 Spribe aviator game attracts tens of thousands of users and it is not surprising that they try to analyze the game and develop different strategies. Despite the fact that the outcome of the round in Aviator Сrash Game is completely unpredictable, there are a number of strategies that are particularly popular and we want to tell you about them.
Low Bets
You place low bets while waiting for the odds to get high. That way, you risk losing a little money and get a chance to win a lot.
High Bets
By choosing this strategy, users place large bets, but press the cashout button at low odds – 1.20 to 1.40. In this way, you minimize the risks.
Martingale Strategy
This is a very popular strategy used in most casino games, including the aviator live game. The bottom line is that in case you lose, you increase the bet until you come out in the black.
Mathematical Probability.
Study the statistics from previous rounds and this will help you make a correct Aviator game prediction. Based on mathematical probability, after several low odds in a row, there is a high probability of getting a high odds.
Double Bets
You place 2 bets for one round of Aviator. You cash out the first bet when the odds reach 2.0. The second cashout is when the airplane reaches the odds you want.
Download Mostbet aviator app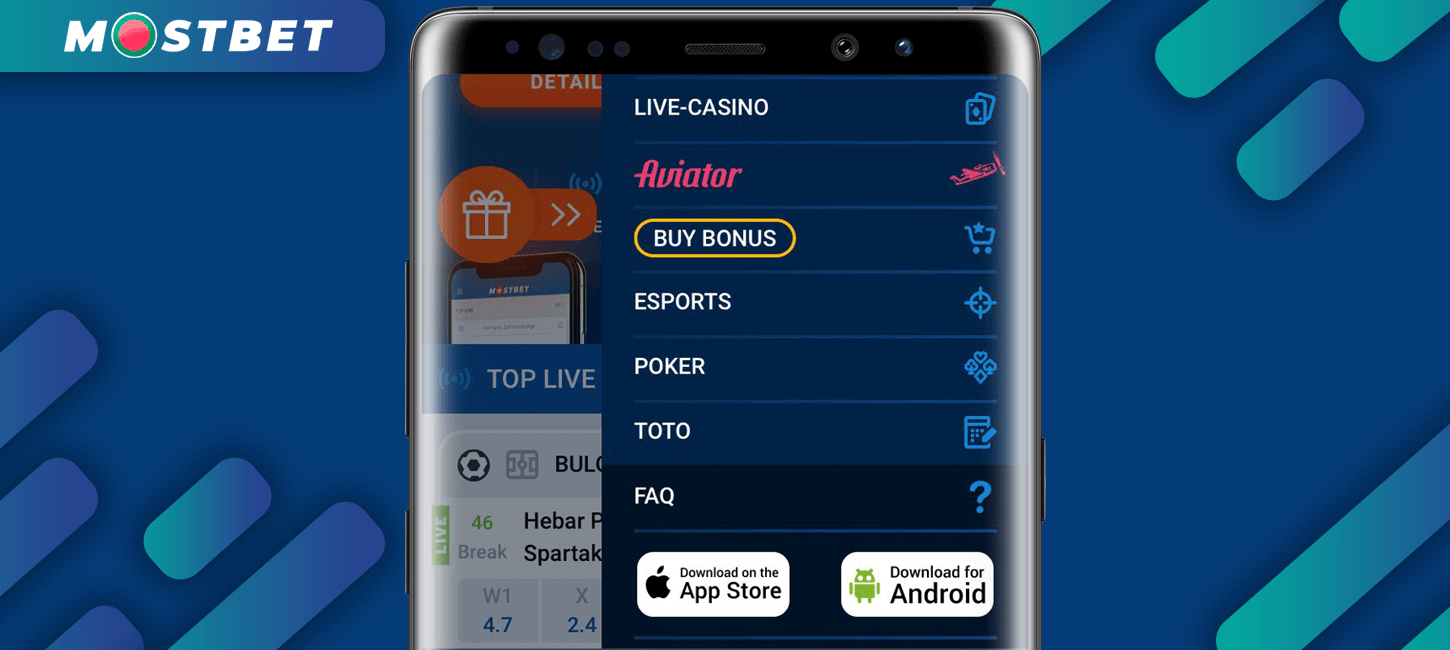 You can start playing for real money with your smartphone by downloading the free Mostbet Aviator betting game app for Android or iOS. Using it you can register, deposit money into your balance and start taking your winnings. Here is the information on how to make Spribe aviator game download:
Go to Mostbet's mobile site using any smartphone browser;
Navigate to the app page;
Choose the version that suits your operating system;
Download and install Mostbet on your smartphone.
After a short download, you will also be able to see the flight of the plane, watch the statistics of the rounds and place your bets.
Aviator game tips & tricks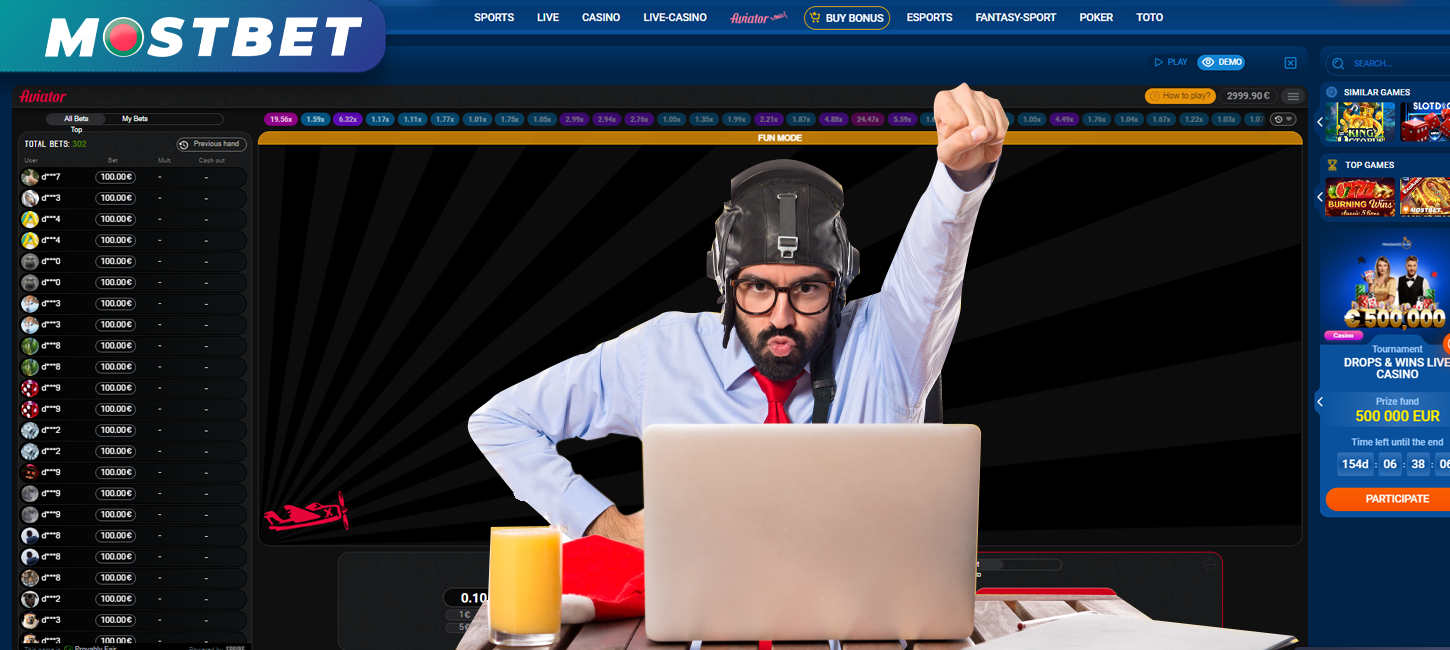 Mostbet Aviator is a completely unpredictable game. The point is that SPRIBE develops all games, including this one, by implementing a random number generator. Thus, the final odds in each round are completely random, and there is no way to predict them.
However, a lot also depends on the player, his actions and patience, so there are some tips to help you win at Mostbet Aviator Bangladesh:
Look at the odds that have been in previous rounds. The mathematical probability of three high odds in a row is low, just as it is of three low odds;
Until you understand how the mechanics of the game work, it is better to start cashing in small odds, such as 1.30-1.70;
You can try a strategy of increasing your bets until you are in the black, however, one bad bet can lead to tangible losses.
As with any casino game, luck is a factor, and you should keep this in mind before playing Aviator!
Benefits of Mostbet Aviator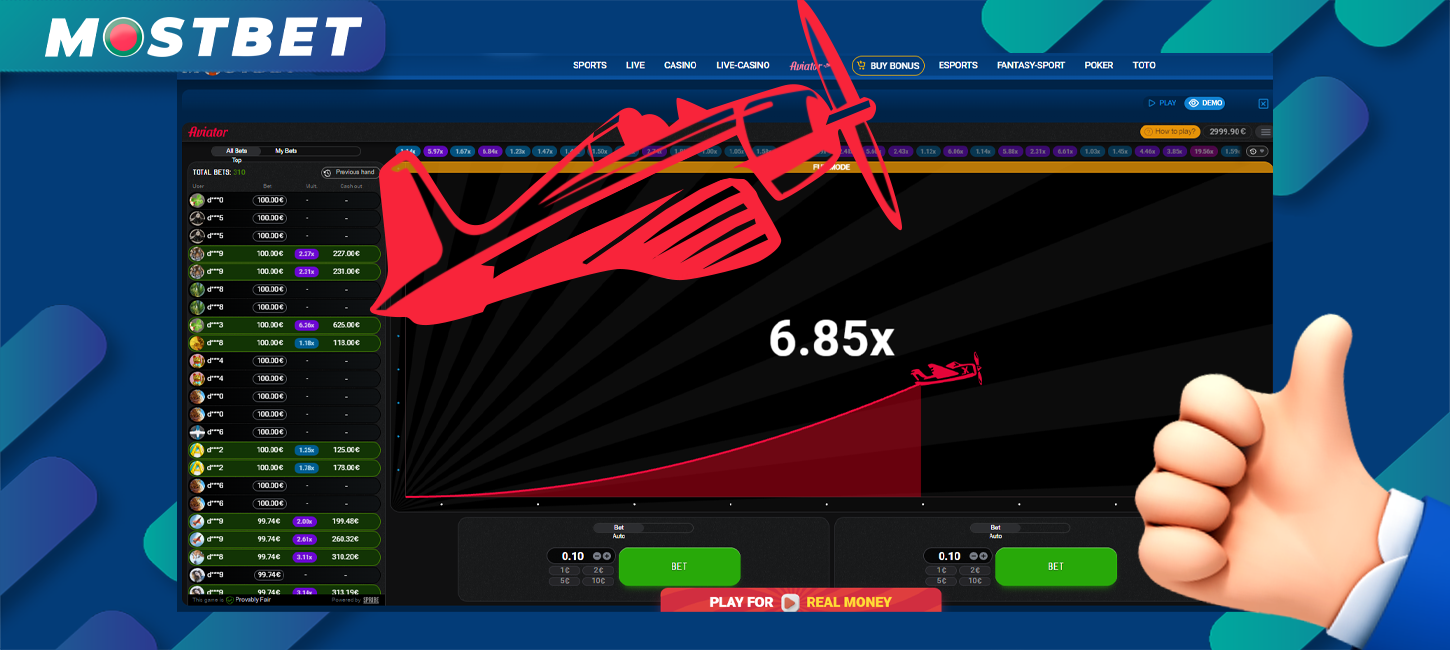 When you play an Aviator betting game on Mostbet, you can be sure to have a good time with a great sense of excitement and win if you're lucky. A huge number of users choose this game because of the following advantages:
You can win good money in a couple of seconds;
All rounds are played in LIVE mode, you can see how the plane flies and the full odds history;
You see other players' bets and can feel the spirit of the competition;
The maximum bet is BDT 7,000 and the minimum is 5 BDT, allowing you to use a betting strategy by raising them until you're in the black;
You can play the DEMO version on Mostbet to see if this game suits you;
Cashout is done instantly and winnings are available for withdrawal as soon as you receive them.
FAQ
Is it legal to play Aviator on Mostbet in Bangladesh?
Is it legal to play Aviator on Mostbet in Bangladesh?

Yes, we adhere to local laws, offer our services online and operate under a Curacao license.
How to win in Aviator?
How to win in Aviator?

You have to keep an eye on the odds and hit the withdrawal button in time. Also, a lot depends on luck and you should take this into account, as the outcome of each round is random.