Online Crazy Time Game Mostbet
Any user from Bangladesh can start playing Crazy Time at Mostbet, have fun and win up to 20,000x. This is a fairly new Wheel format casino game, which is attracting more and more gamblers.
Start playing Crazy Time for real money today, get good vibes and win big!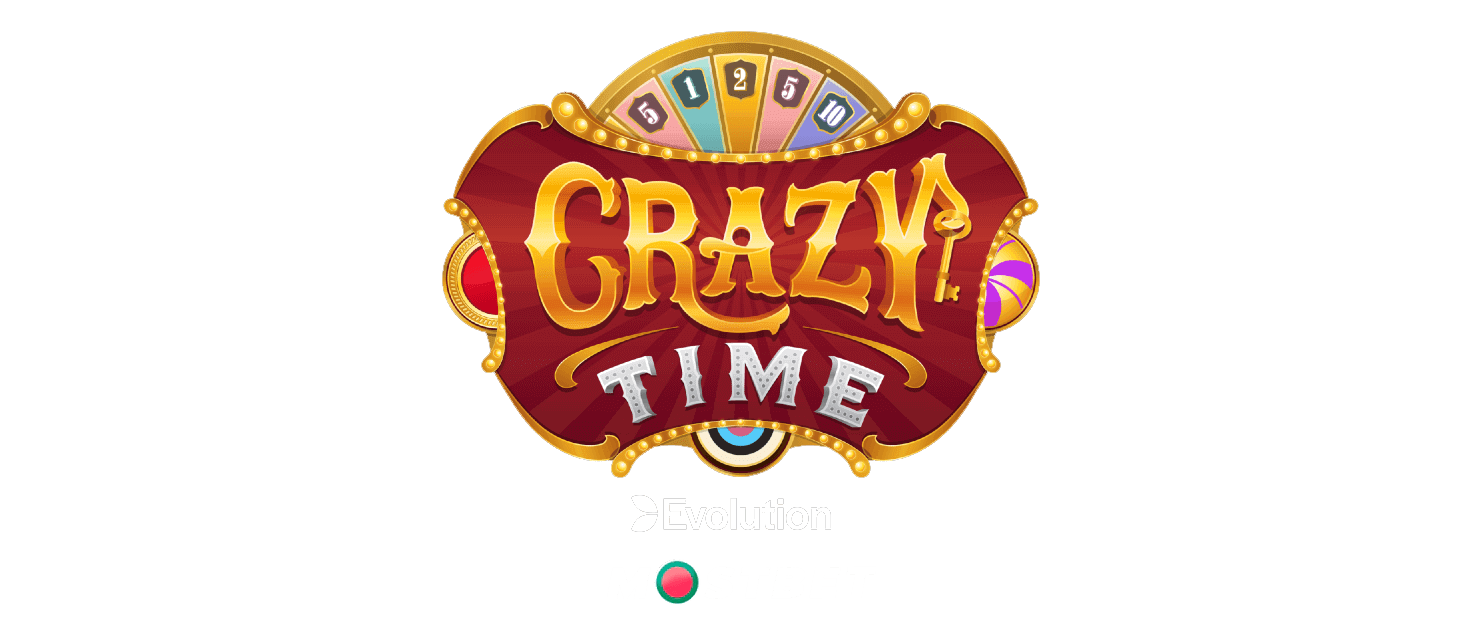 What is Crazy Time Live Game?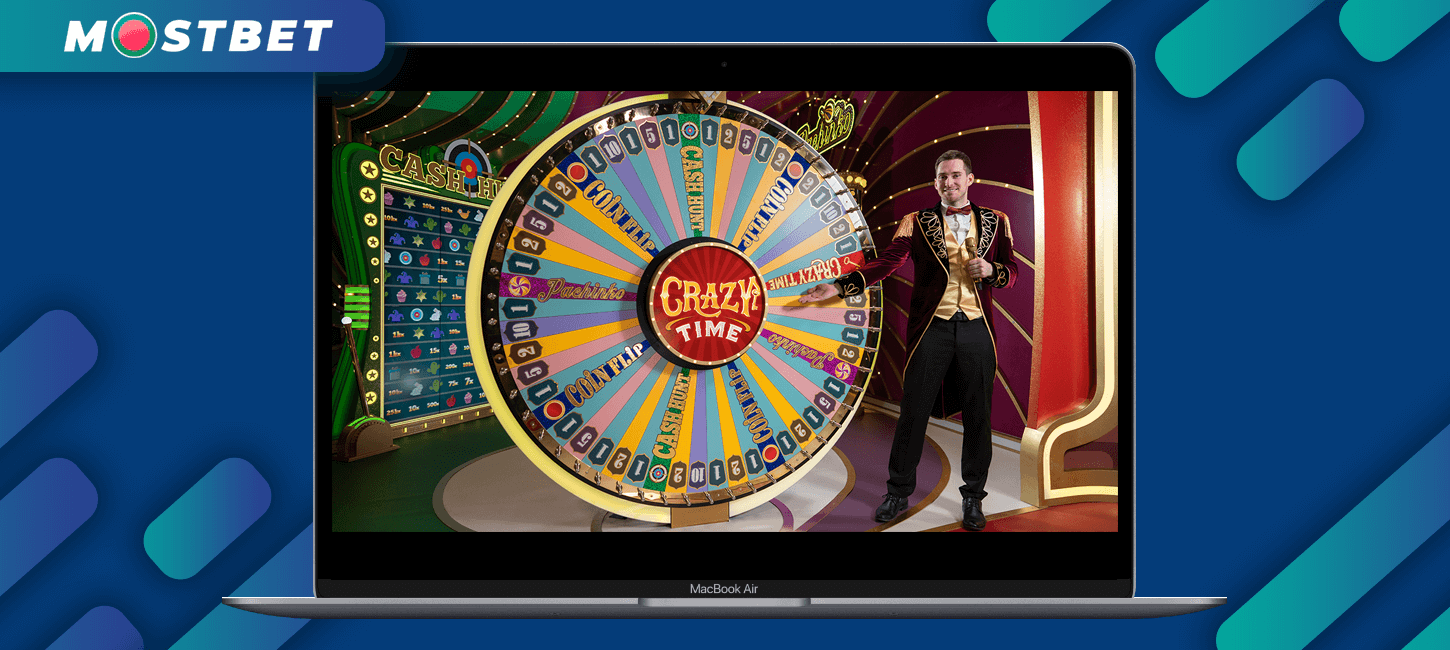 Mostbet crazy time is a game where the dealer spins a wheel that has fields with numbers and bonus games. It is a live casino game where users can watch the action via live streaming, communicate with the dealer and place their bets.
The wheel consists of 54 fields (9 bonus fields and 45 number fields). You can place bets on more than one field at the same time.
The game's RTP is 96.08% and the maximum win per round is 20,000x your bet.
Rules of Evolution Crazy Time Game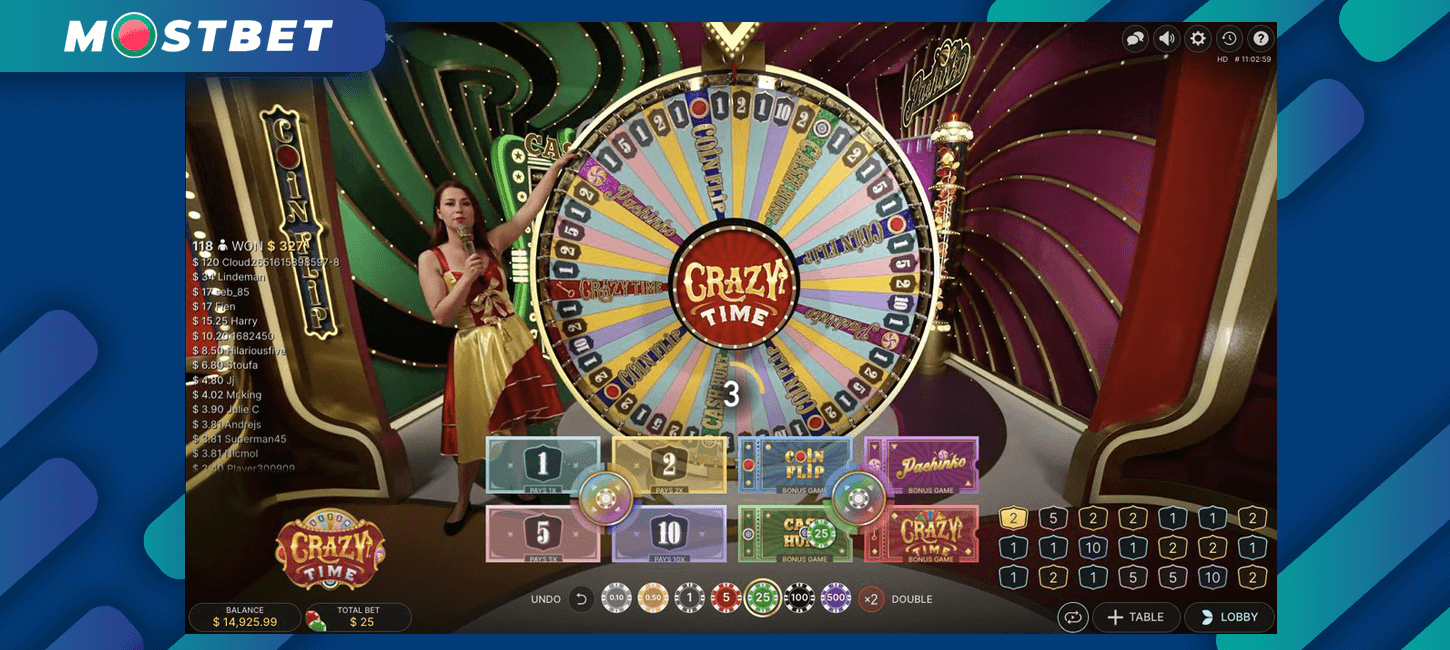 The rules of Evolution crazy time are very simple, and you can be sure to adapt as quickly as possible. Before the dealer starts the round by spinning the wheel, users place their bets on the fields they want.
We have prepared small guides on the fields available for betting.
Number fields
These fields take up the majority of the field. They are the numbers 1,2,5 and 10. The bigger the number, the smaller the amount of fields on the Crazy Time game wheel. The number on the box determines how much you win. So, if you bet $100 on number 1 and it comes up, you get $200 ($100 yours and $100 for the win). If you bet $100 on the number 10, you get $1,100 ($100 of your money and $1,000 in winnings).
Bonus Fields
If the spinning wheel results in a bonus field, the mini-bonus game starts, in which users can get really big winnings. There are a total of 9 of these fields and you can bet on each of them.
Below is a description of each of the bonus fields:
Coin Flip. There are 4 of these fields on the playing wheel. The dealer approaches the table with a coin, which has two sides – red and blue. The screen shows the amount of winnings the player gets if he flips each side. The dealer then presses a button and the coin randomly falls with the red or blue side and users receive their respective winnings;
Cash Hunt. The dealer comes to a virtual screen where different winnings can be seen – 15x, 25x, 100x and so on. All the winnings are then covered with pictures and shuffled. The user chooses which picture they want to remove. Then the pictures disappear and you get the winnings depending on the number that has fallen out;
Pachinko. The dealer comes up with a special animated screen, which is similar in format to Plinko. At the very bottom of the screen the winnings are indicated. The dealer throws a ball, which goes from above and hits the edges (sticks) of the virtual area and users win according to the odds the ball hits;
Crazy Time. The dealer approaches the red door and opens the room with the bonus Crazy Time wheel. The user chooses a colour (green, blue or yellow). The dealer then spins the bonus wheel and the colour you choose points to one of the fields. You get your winnings based on this field.
Spin history at crazy time
As one of the interface elements, when you play Crazy Time, you can view the history of previous rounds – it is Crazy time spin history.
The results of the last 21 spins are listed there. So if you see that there haven't been any bonus games in a very long time, you should definitely bet on these fields!
Crazy Time Game – Registration & Login at Mostbet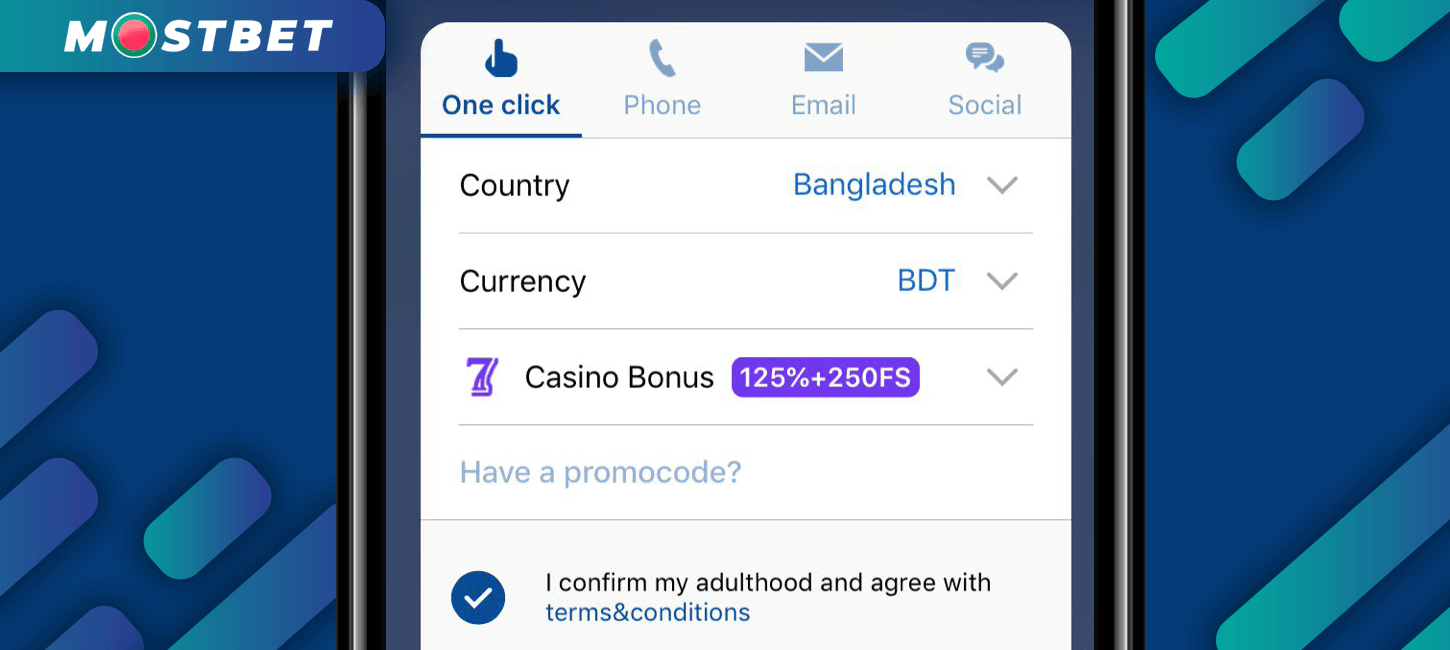 You need to create a personal account with a unique balance to start gambling. Crazy time registration to start playing this game at Mostbet is easy. We have prepared step-by-step instructions for you:
Go to the official website or open the Mostbet app.
Click on the registration button.
Choose one of the ways to create an account – in one click, via email, via mobile phone or through social networks.
Fill in the fields and click on the confirmation button.
Your personal account will now be successfully created. You will be immediately logged in, be able to deposit BDT into your account in any available way and start playing Crazy Time.
Best Crazy Time live game strategy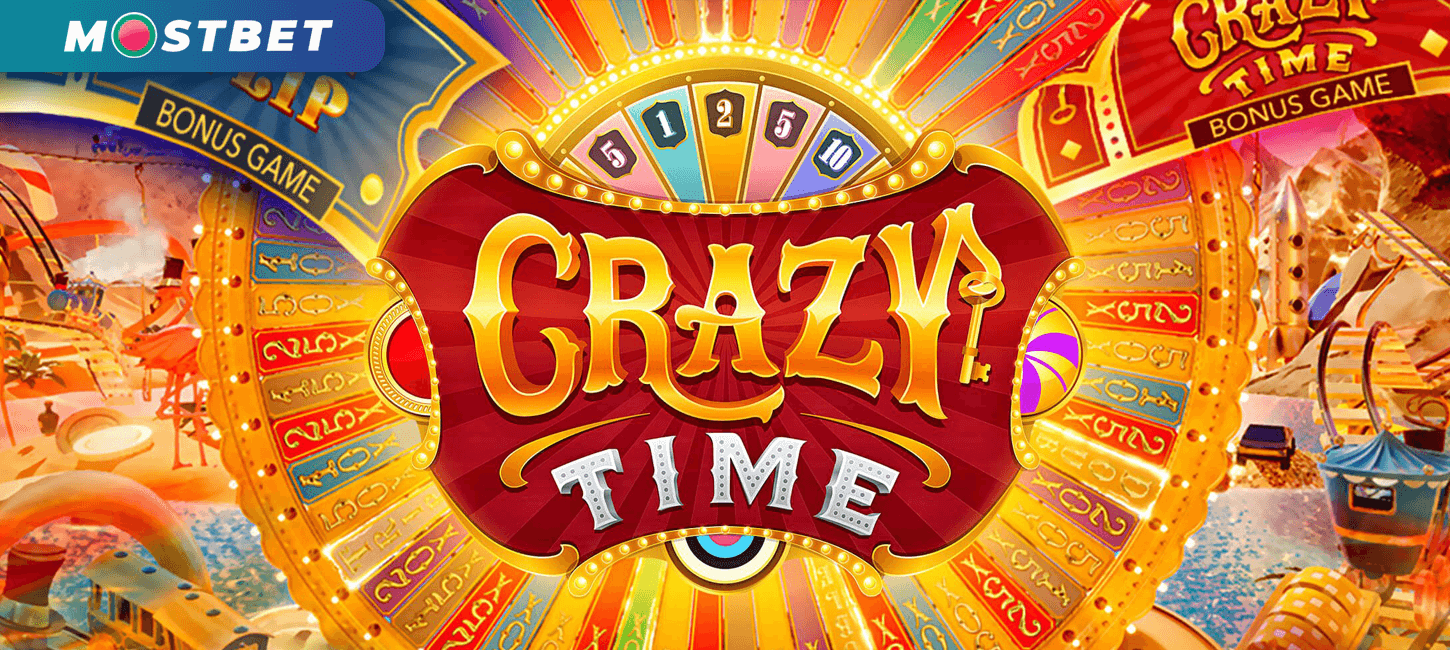 The outcome of each round depends solely on how the dealer spins the wheel, which means it is entirely random. However, some active Crazy Time Mostbet fans have a number of strategies and use them. Even though none of them are guaranteed to win, we would like to tell you about them.
Bonus field betting
Pay attention to Crazy Time's spin history. If there hasn't been a bonus in a while, you should definitely bet on these fields. In fact, there's a 16.7% chance that the wheel pointer will point to a bonus field each round, which is pretty high.
Betting on fields with numbers
There are as many as 45 number fields on the playing field. There are 21 number fields with a value of 1 only. So you can work out your own betting patterns so that you have a better than 50% chance of winning, as long as you correctly allocate your bets to a number of number fields. Don't forget that if you bet on 10 and it comes out, you will get 10x the bet amount.
The martingale strategy
This Сrazy Еime strategy involves constantly increasing your bet. In this way, you will sooner or later come out in the black, even though you have been losing a series of bets.
Crazy time game tips & tricks for winning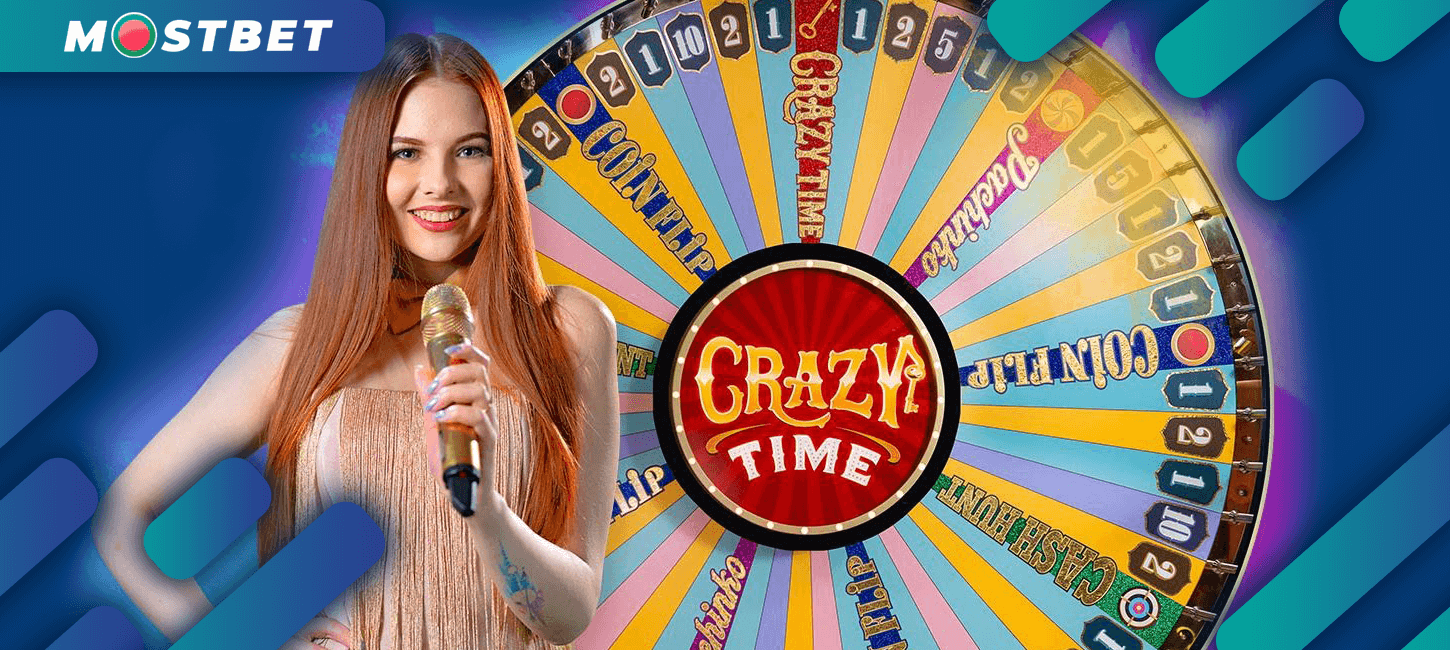 There are a few tips we would like to give you before you start playing Crazy Time Mostbet:
Start playing Crazy time online with small bets, that way you can understand how the game works;
Always pay attention to Crazy time information about previous rounds to estimate the probability of the bonus field falling out;
Bet on more than one field at a time, especially when choosing a betting strategy on bonus games;
Keep an eye on the bonus multipliers for each round, as they greatly increase the potential winnings;
Always keep an eye on your budget and allocate it wisely among the fields.
Download Crazy Time Casino App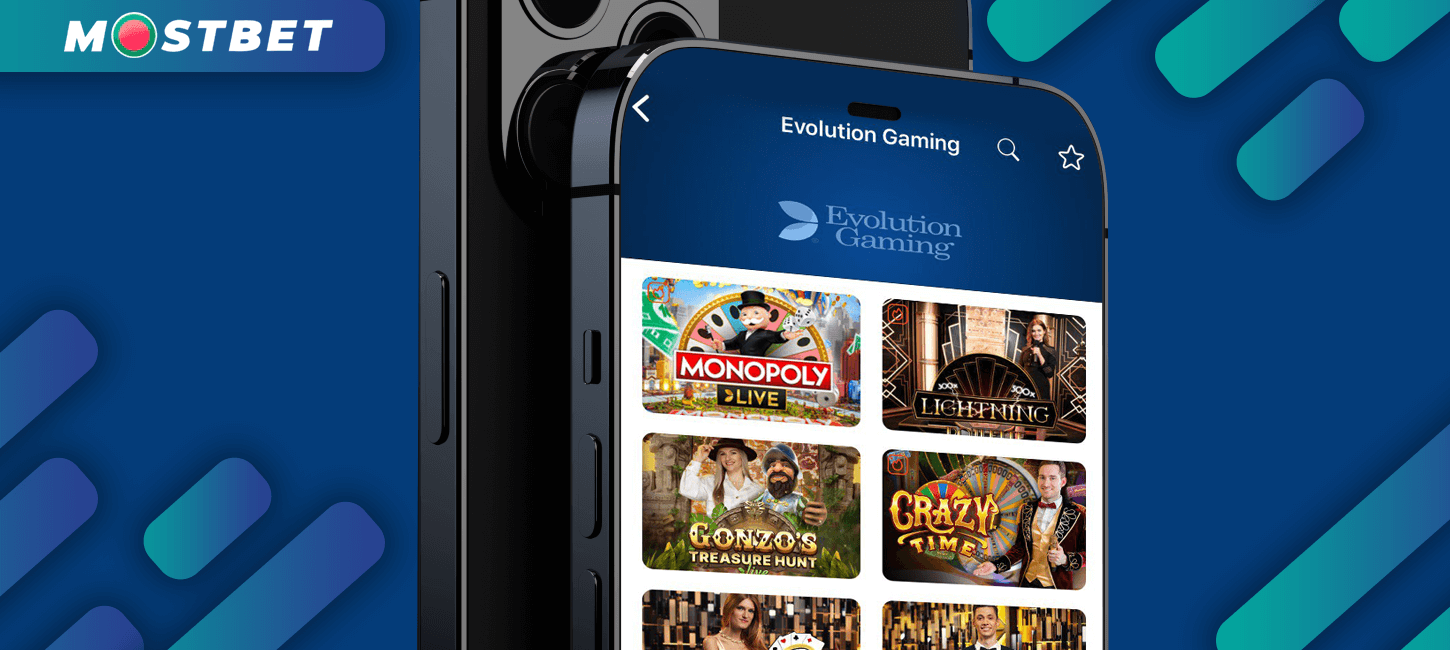 If you want to gamble with your smartphone you can download Mostbet Crazy Time casino app for Android and iOS for free. In order to do so:
Open Mostbet site via any smartphone browser.
Go to the app page.
Download the version you want on your smartphone and install it.
Now you can log in to our Crazy Time casino app at any time, deposit money into your balance and start playing.
In the app, you can also watch everything happening via live streaming. You have access to statistics, a tracker and you place your bets via a handy virtual scoreboard.
Crazy time new update
You can download the Crazy time new update app at any time from our official Mostbet website. If the app is already installed, you will be notified when a new version is released and you will then need to:
Click on the notification received that there is a new version of Mostbet.
Agree to download and install the latest version of the app.
Wait for the download to complete, this will take a few seconds.
You can now use the latest version of the Mostbet app to play the Crazy Time Live Game.
Crazy Time Tracker & Stats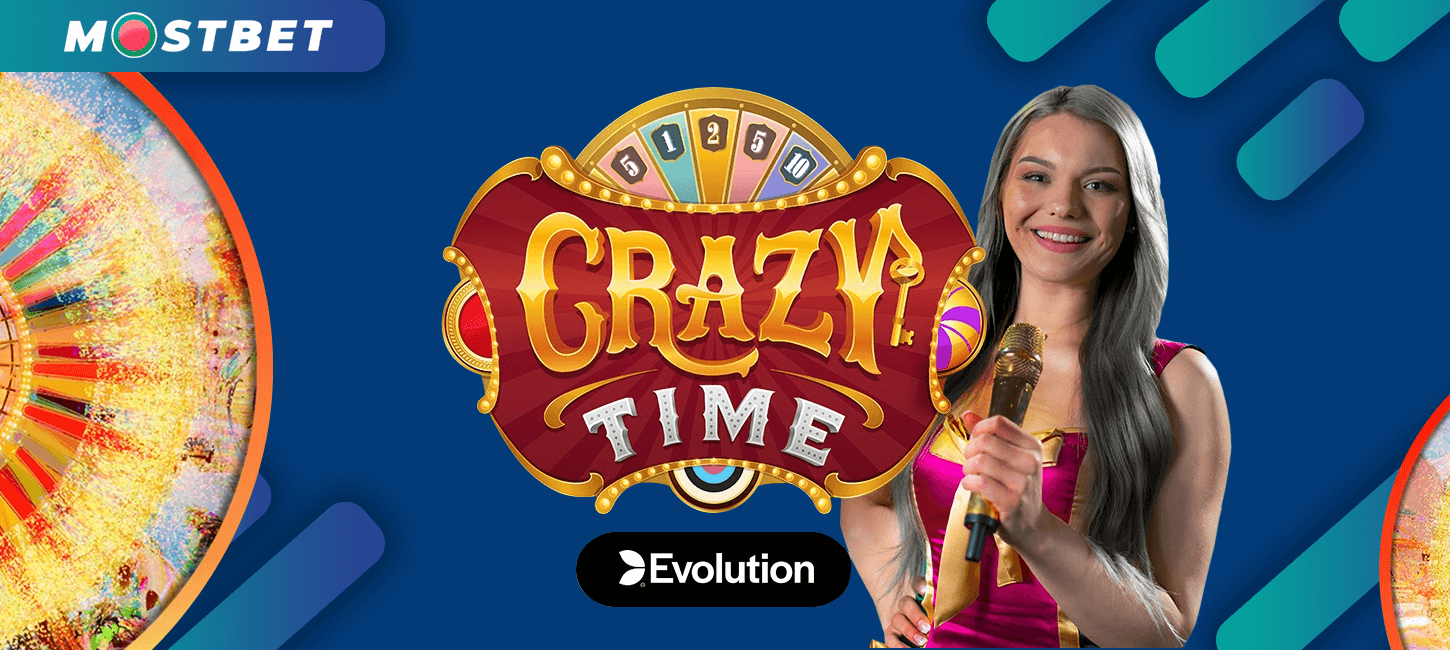 Crazy Time is a completely transparent game where the outcome of each round depends on how the dealer spins the wheel. In doing so, you can be fully aware of the information on the roll of any given field. Technically, you can calculate the mathematical probability of deciding which box will appear in the next round, but remember that, like roulette, with Wheel type games every round is a new probability.
Features of Crazy Time game Bangladesh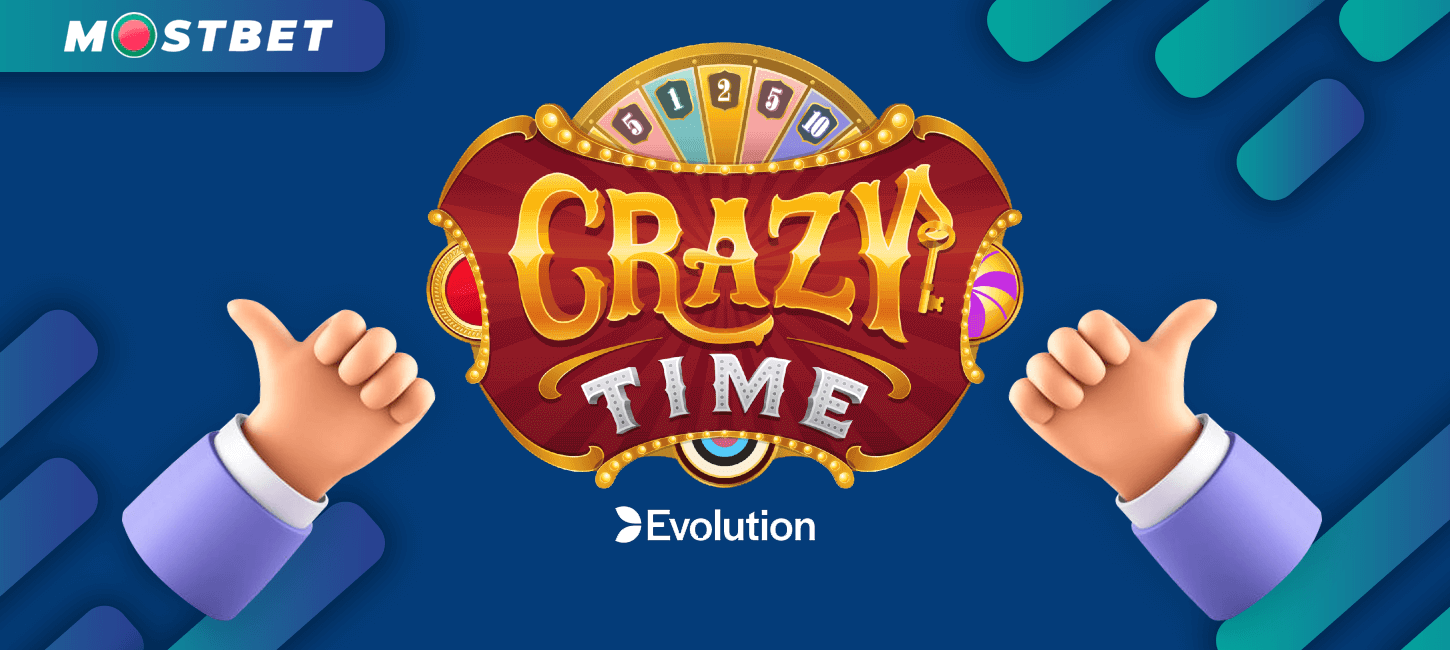 Crazy Time has built up a very wide audience of tens of thousands of regular users in a very short period of time. This is not surprising, as it has a number of benefits and features:
The maximum win per round is 20,000X;
The RTP is quite high, at 96.08%;
The outcome of each round is random and transparent;
The game has a very interesting TV Show format with a nice atmosphere and bonus games;
You can see Spin history Crazy Time of previous rounds;
The player's stakes have a direct influence on whether he wins or loses, as you determine the fields for yourself;
You can play Crazy Time Live Game at any time, the presenters will change, but they are all charismatic, energetic and set a positive vibe.
FAQ
Which is the best bonus game?
Which is the best bonus game?

The best field in the game is Crazy Time. There is only one field and the odds of it happening are small, but the winnings are usually very big.
What is the maximum winnings I can get?
What is the maximum winnings I can get?

You can get up to 20,000X within one round.
Can I play Crazy Time on my smartphone?
Can I play Crazy Time on my smartphone?

Yes, you can use our Mostbet BD mobile app or mobile website for that.